BuzzFeed News joined volunteers at the mosque at the centre of Grenfell Tower relief efforts, which has now opened its doors to the capital's homeless.
She's 31, she says, and scrolls through her phone while we talk. Her hair is tied in a ponytail and she is ready to sleep but willing to speak about her experience of being homeless on this bitterly cold Tuesday night in November.
Mekonnen is from Ethiopia and came to the UK in 2015 looking for refuge from political turmoil. She sees homelessness as a temporary chapter in her life. She got to this country in the winter, when the evenings were long, dark, and cold. At first she lived in Preston, where she had been in asylum support accommodation and received an allowance of just £36.95 a week, until she was granted refugee status earlier this year after many interviews with Home Office workers and court processes. She got the coach to London in August.
She describes how sometimes she would sleep on a bench sitting up, pretending to be awake, with a blanket pulled up over her knees.
Tonight she will sleep in a night shelter run by the West London Mission, a homelessness and poverty charity that pairs with religious buildings to open them up for homeless people. It has been running for eight years, but in October al-Manaar became the first mosque to get involved, joining 13 churches of different denominations and a synagogue.
Mekonnen joined the the night shelter project a few weeks ago. "People are going to be homeless because of different situations," she says thoughtfully. "When they change from place to place, till they are gonna be on the right track… for a transition period they are gonna be homeless.
"It's a social problem, because of family breakdown, because of work, whatever – being homeless is maybe temporary. Also for some people, it may be permanent."
---
Earlier in the evening, around 6pm, the mosque canteen is filling up with guests (there are 15 of them) and shelter volunteers. People help themselves to tea in the vibrant, busy space. Some chat. Some help lay the tables for the meal of pakoras, chicken curry, chickpea curry, rice, yoghurt, and naan – all halal.
Phil Stone, which is not his real name, is 43. With a slight Liverpudlian accent, he tells BuzzFeed News he worked for 12 years as a chef in Liverpool restaurants. He came to London with friends for a new job, only to discover it didn't exist when he got here, and he didn't have the money to buy a ticket back.
"You get used to it. It was a bit strange in the beginning," Stone says, scooping up the rice on his plate. "They just kept me waiting and waiting and waiting. Then they said something like 'Huh, job? We don't have a job for you.' So I came here with false pretences. They didn't even know I came. It was all very dodgy."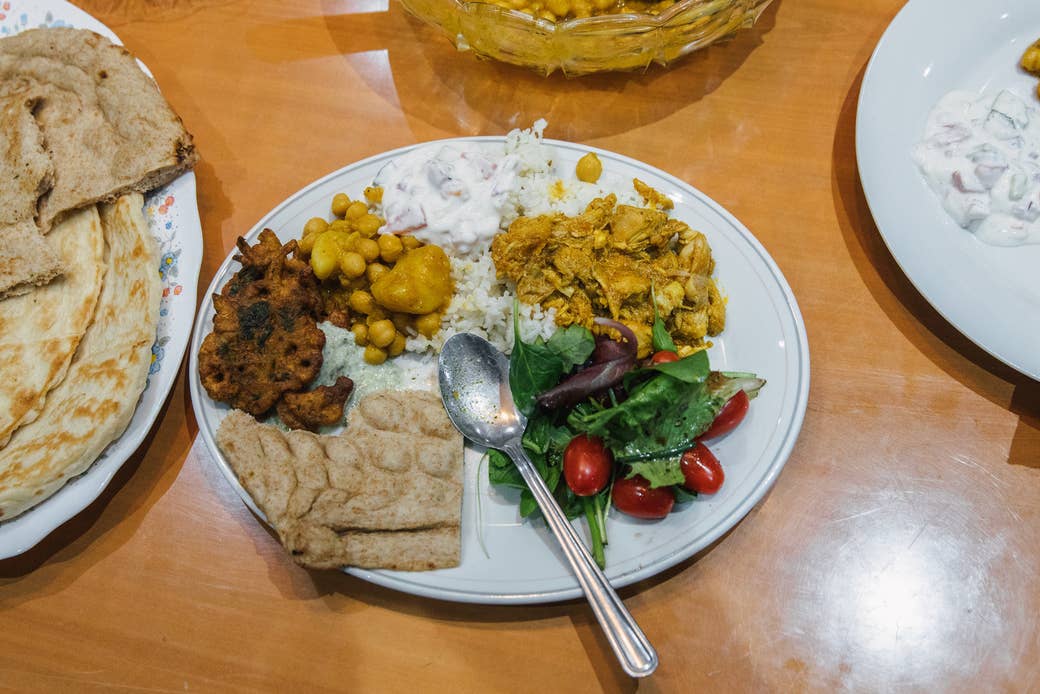 He has been in and out of work as a kitchen porter and in and out of temporary accommodation a few times, including a flat in Ilford, in the east of the city, where eight people were staying. ("We were sleeping everywhere. Mattresses everywhere.") He slept on the streets for weeks at a time, and was taken in by Romanian cleaners to live in a crowded and noisy house in nearby Dagenham, where he was unable to sleep because of a bed lice infestation. He walked out.
Stone lifts up his trouser leg and shows the bites pockmarking his leg. "I've got it all over my body. See that?" Because of his bad luck with accommodation, he kept falling asleep during the day and started slipping up in the kitchen.
"You start making the smallest and basic mistakes. You just plump the chicken next to the vegetables, and then the head chef says you can't do that, but because of a lack of sleep you lose concentration, or you let the fries burn."
Stone lost his job and ended up on the streets again.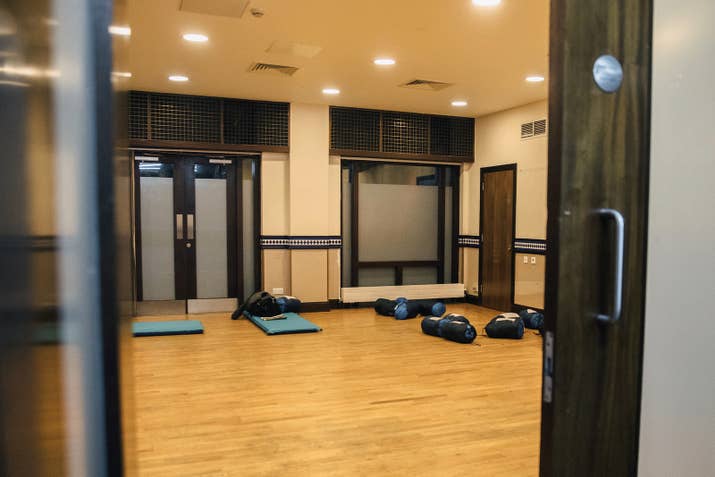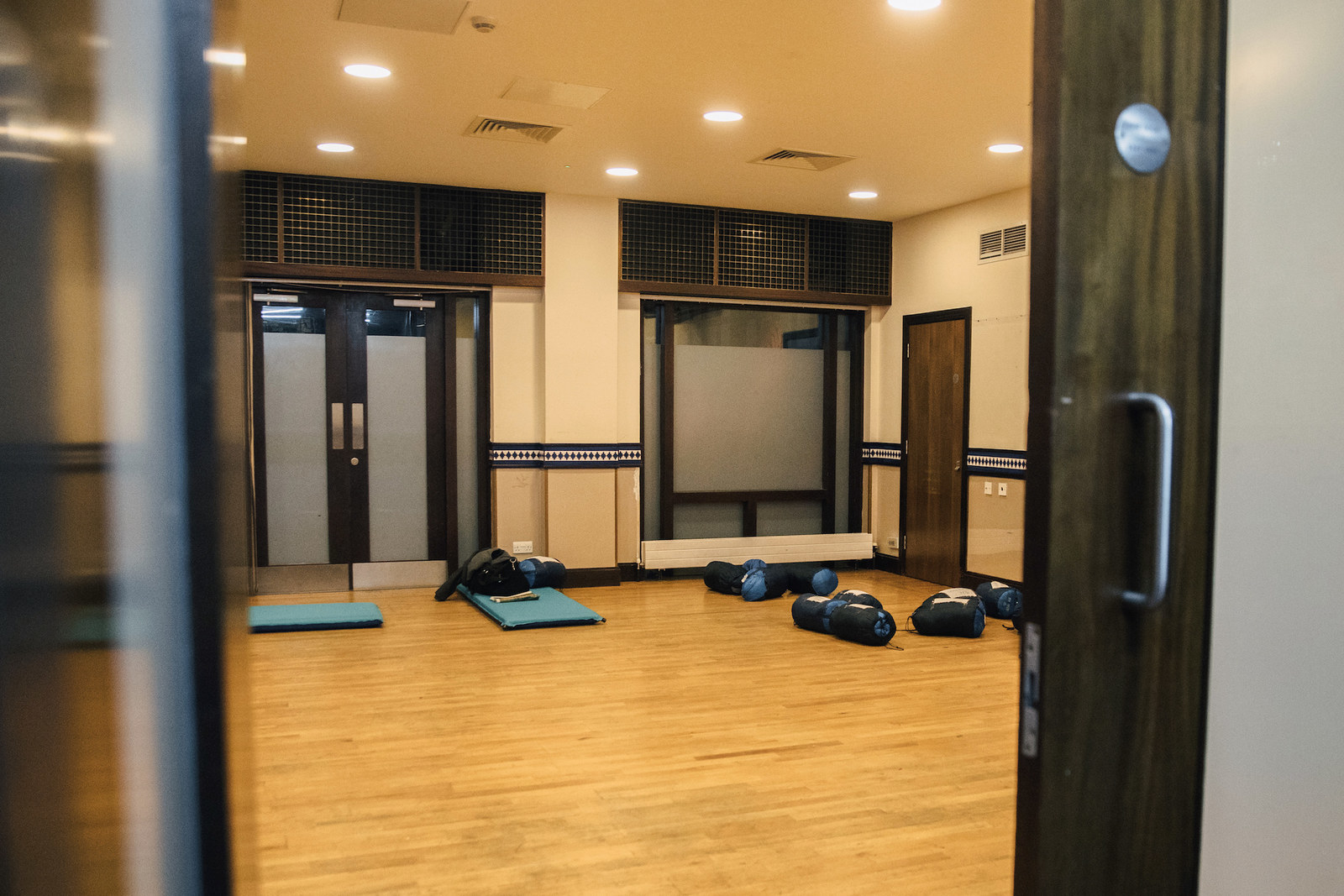 "It was quite rough, it was cold," he says. "I didn't know the place. I used to sleep in Regent's Park and there's this kind of a pavilion and it has a half-shelter from the wind. It's protected from the rain and I used to sleep there using carton boxes, and I had a blanket.
"I got lost so many times. It's terrible."
The chef found the day centre at Seymour Place in Marylebone, which is also run by WLM, nine weeks ago. He says he keeps himself to himself and goes his own way during the day, spending part of his time in libraries.
"We try to help each other, but that's more in the way of money or cigarettes, or more in the way of food. What's very common among the homeless is they point you out where to get your next meal, or where to get your vouchers or where to do your clothing, or where to get a shower."
He says he carries only one bag, and keeps his other belongings in temporary storage at the day centre. "I guess it's pride. I don't want to walk on the street with a bag full of clothing."
---
Al-Manaar mosque's role in the Grenfell relief efforts is something that helped it become a more regular shelter. Residents and locals stayed there on the night of the tragedy and in the weeks after, which for Muslims coincided with the long days of fasting during Ramadan.
The two halls in the mosque, which now house homeless guests, have been renamed Grenfell 1 and Grenfell 2 as a mark of respect and commemoration. A tour of the building includes the library and counselling rooms for grieving families, and the hall where a public meeting about legal support for victims was held a few days after the fire.
Abdurahman Sayed, the chief executive of al-Manaar Muslim cultural heritage centre, says the mosque was preparing for the last 10 days of Ramadan when the fire broke out on 14 June.
"The first thing we did was to respond to that by opening our doors to anyone who needed temporary shelter, gave food and drink, and that immediately made us a centre for emergency services for Grenfell," says Sayed, who is eating with the guests in the canteen.
"Since then we're now playing a very central role in the faith community … and also facilitating engagement between the local authority and the community."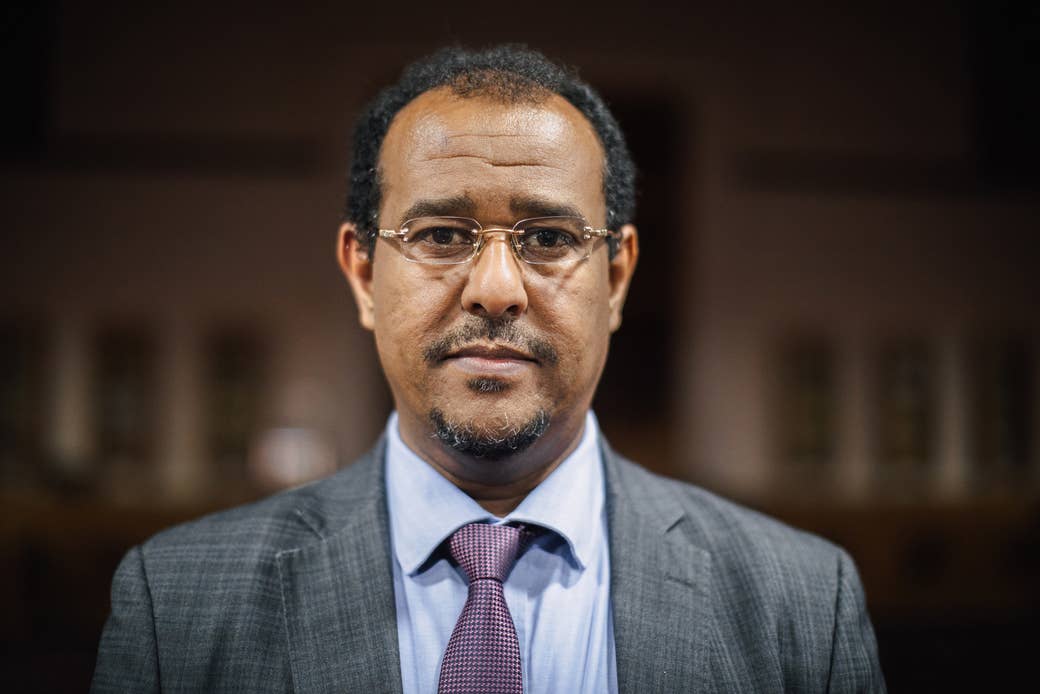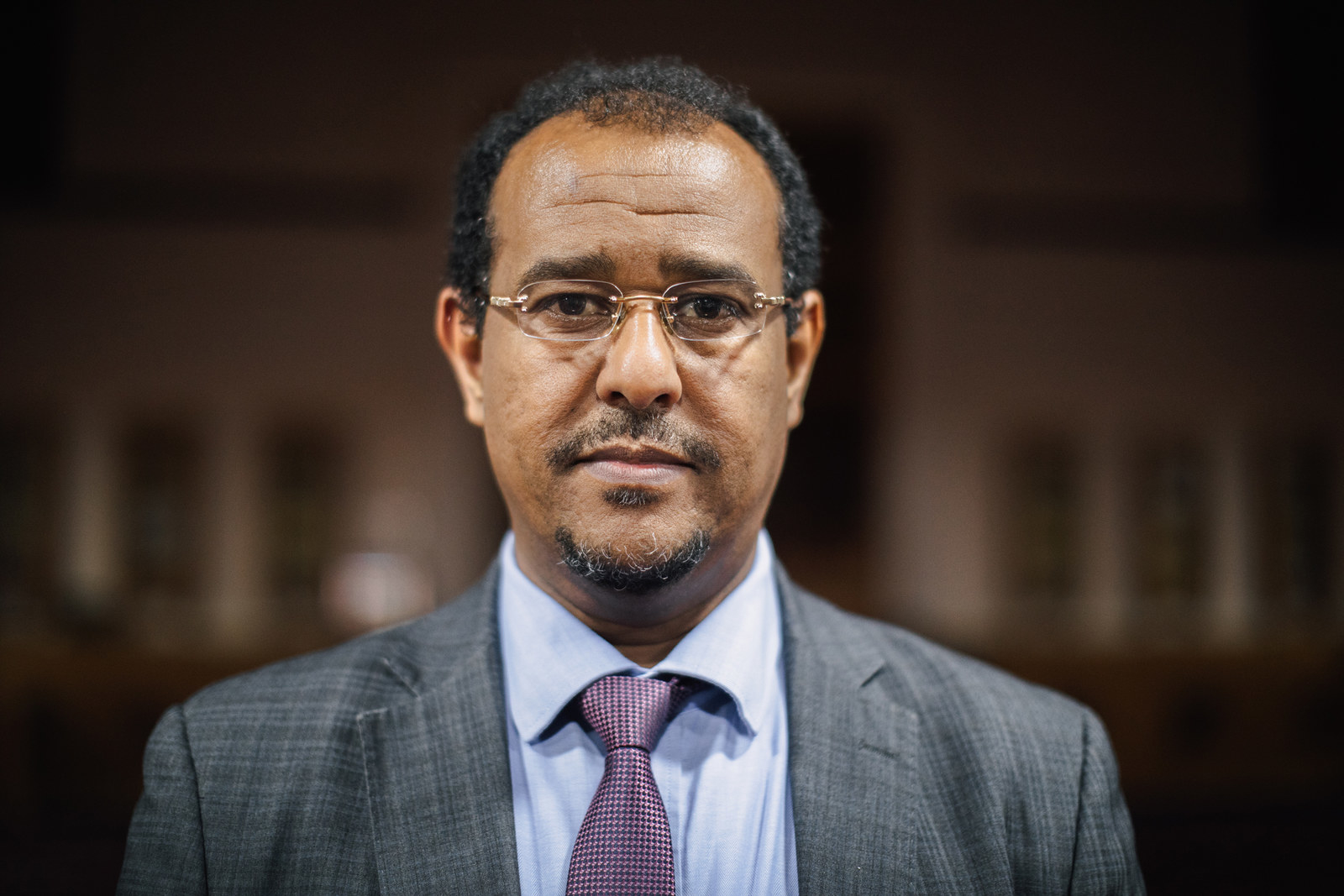 Sayed has been in the role since June 2016. Before working at the mosque, he was in the public sector for 17 years. He says al-Manaar is now hosting homeless people because of "a duty of care towards the community" and a desire to show its commitment to this publicly. When asked why the mosque didn't open its doors to the homeless sooner, Sayed says: "We were always open, it's just we never articulated ourselves enough.
"It's just maybe Grenfell might have made us more confident than we were, and we can start it earlier than we thought we could."
---
As the naan goes around, people share parts of their stories. Michal, 45, who doesn't give his last name, is from Poland and has been in London since 2009. He lost his job as a crane driver a year ago, and lost his accommodation last Christmas.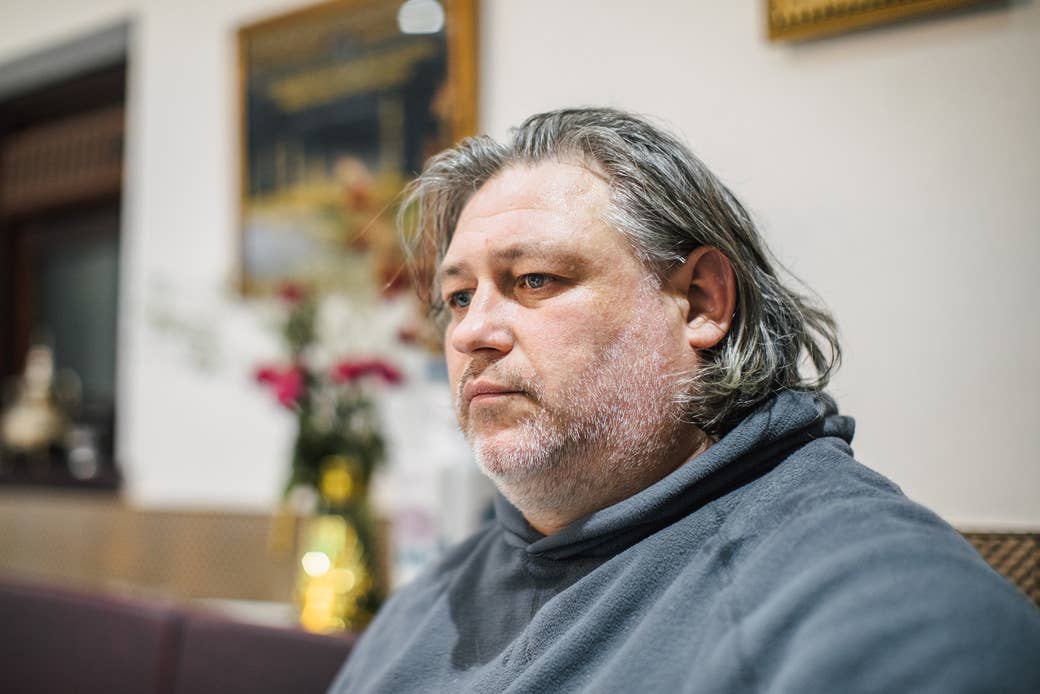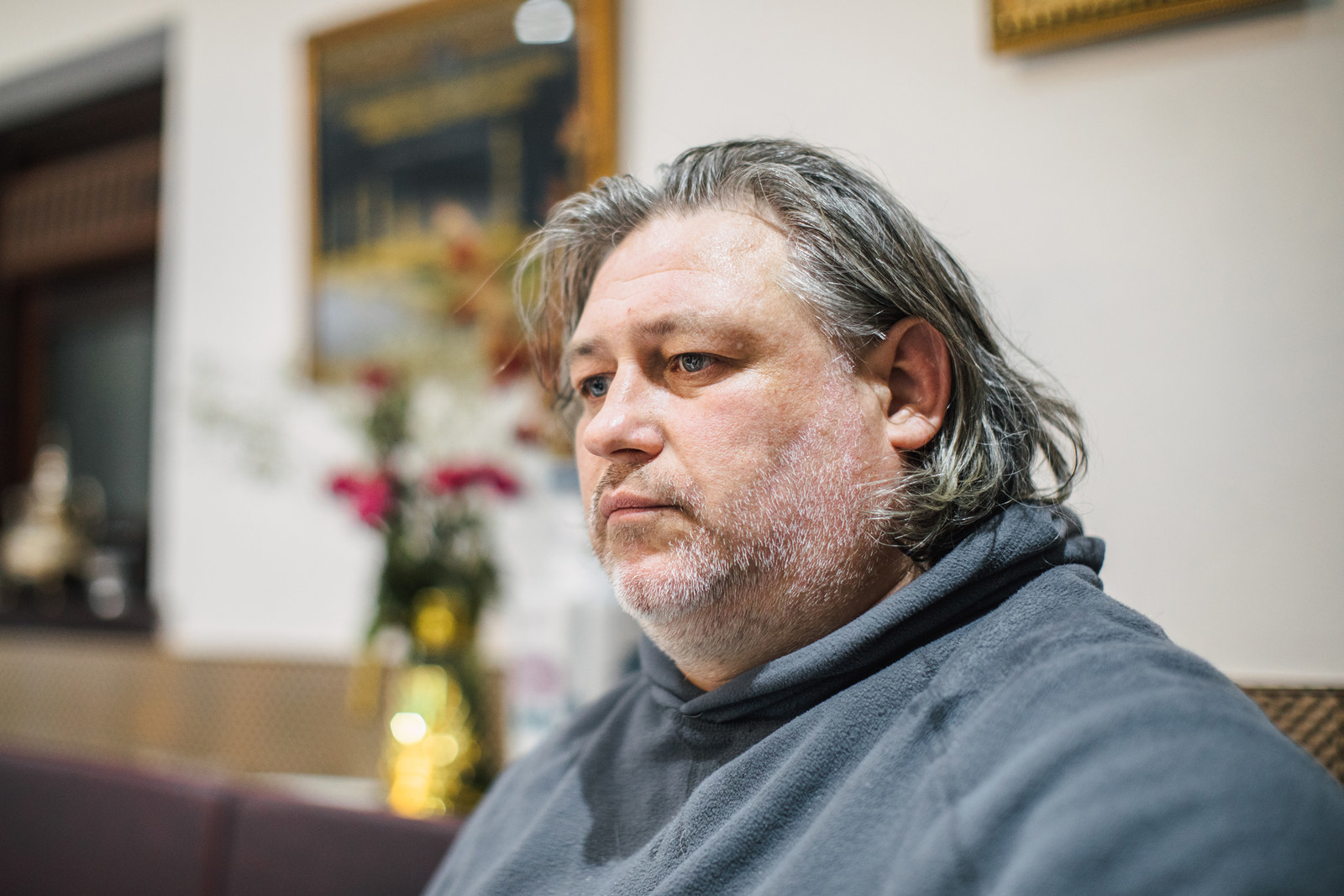 "At first I felt like I was alone, especially the first night. I used to stay in Hyde Park," says Naji Ali, 42, who first came to London nine weeks ago after working in Liverpool as a security guard. Before that, he worked at different retailers for five years. When the weather got colder, he tried to sleep in Victoria station, "but a security guard saw me, and he told me to get out." So Ali ended up finding the night shelter scheme, after three weeks sleeping rough.
"Sometimes I used the night buses. Especially somewhere in London at night – it's not safe," Ali says. He recalls how he liked the long journey from Ilford in east London to Oxford Circus in the city centre on the number 25. Depending on the weather and if the sky was clear, he might get a bus that would head south across Waterloo Bridge, and see Westminster and the London Eye lit up.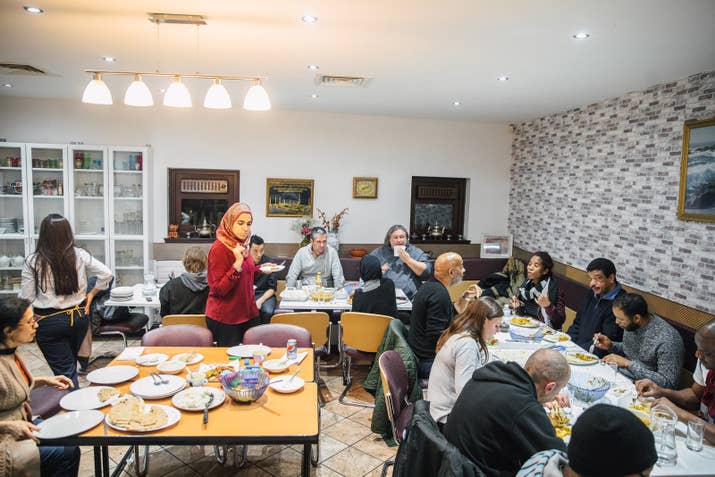 In Liverpool, Ali found he was sometimes working sometimes seven days straight, but wasn't earning enough to live off. "The problem is you work all hours, and you get nothing." Since he came to London, he says, he has had job interviews and the day centre has helped with applications, but he has been unable to get accommodation in a city with a chronic housing shortage and soaring rent prices. He says he did not know how hard it would be. He thought he would be without a place to stay for two or three days at most.
---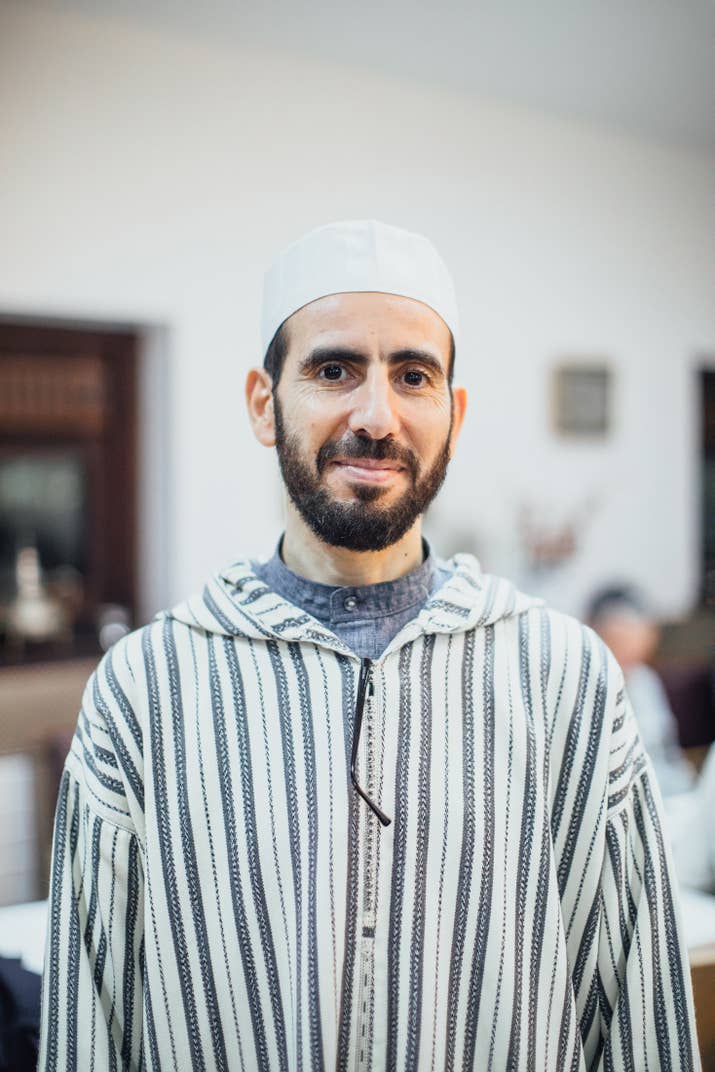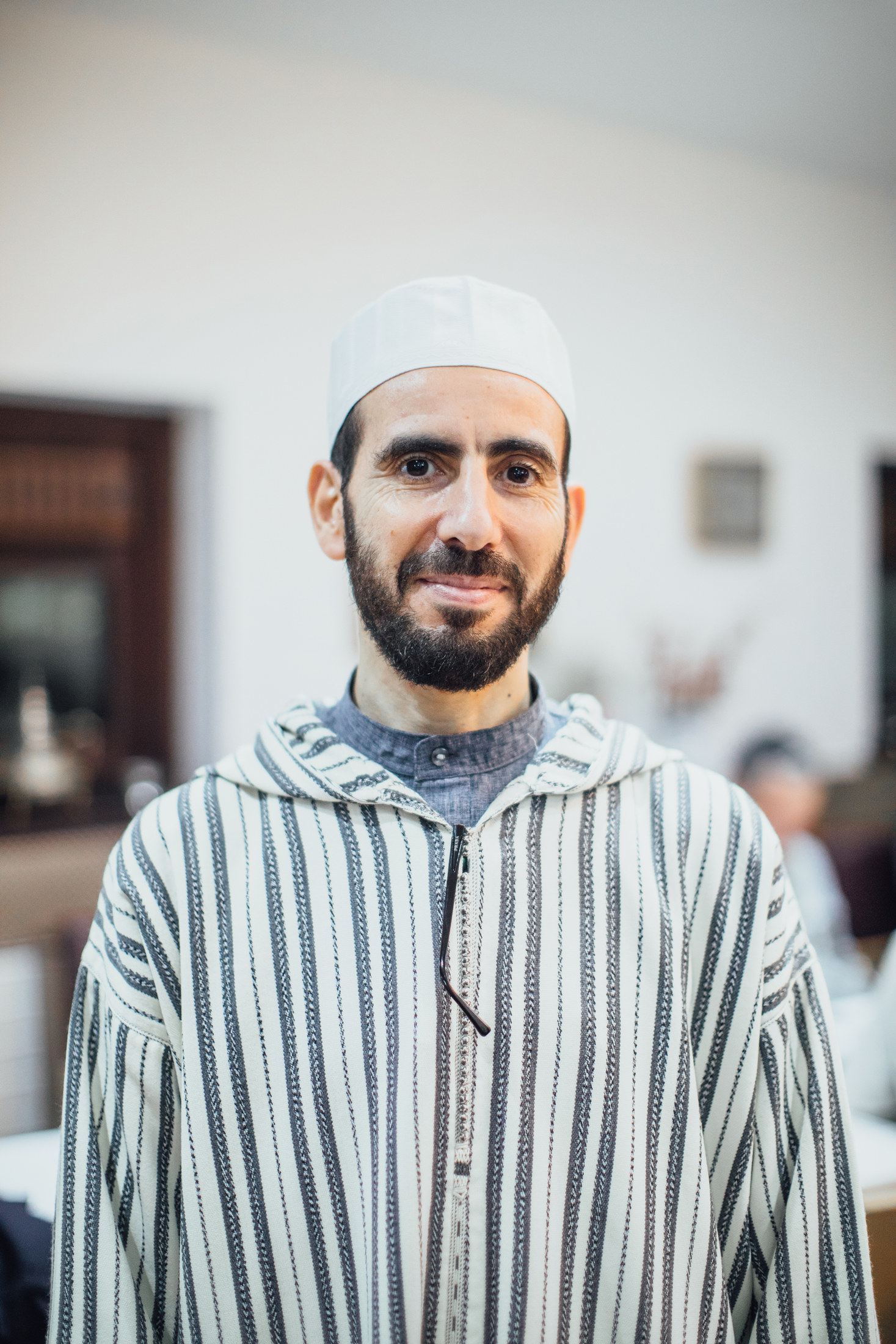 The mosque opened its doors thanks to Saima Ahmed, 32, a WLM project coordinator who has previously worked in finance. "I think a lot of our guests had preconceptions of what a mosque would be like and what individuals at the mosque would be like, and it's just so beautiful now that the imam and the people who work at the mosque all know the guests on a first-name basis," she tells BuzzFeed News.
She launched the scheme after a meeting with Sayed where she says she "literally marched in" thinking she would have to go all guns blazing to persuade the mosque to serve as a night shelter. "But, like, within a couple of minutes Abdurahman was sold and open to the idea and just wanted to go ahead with it."
Ahmed, who spends the evening of BuzzFeed News' visit going from table to table checking everyone is fed, managing the kitchen, and welcoming guests, says she had previously struggled to get mosques in London to take part. While they have been good at running soup kitchens and raising money for charity, some have held back because of funding issues, security concerns, and logistical restrictions. For example, some mosques are very small, or used by worshippers throughout the day. As with all the religious buildings involved in the scheme, al-Manaar won't accept guests who are dependent on alcohol.
"One thing I've really wanted to break down is barriers from both sides," Ahmed says, "not only for the guests who have never been in a mosque, but for the mosque and the fact that they've never really had much interaction with the homeless community living in London."
She says when al-Manaar opened its doors "it felt like home" and she's been pleasantly surprised by how welcoming the people who work there have been. On nights when the project comes to the mosque, the imam has dinner there and stays over.
Ahmed, who is Muslim herself, feels the issue of homelessness is not always taken seriously enough. Half of British Muslims face poverty and deprivation, according to official figures.
"There's a huge amount of homelessness and poverty within our community that's not addressed," she says, adding that she found it "sad yet beautiful" that homeless Muslim guests had been praying in the basement of a church because the mosques were not open to them as shelters. "Why is it that our people from our own community who find themselves homeless don't turn to our community or the mosque, but go to churches or day centres?"
Despite the multiple challenges, Ahmed is keen for more mosques to join the scheme. A former guest at the project now works as a security guard and stays over at the mosque each Tuesday when it runs as a shelter, she says. "The way they can help individuals get jobs and kind of help them move on has been absolutely beautiful to see."
Peter Mwaniki, the WLM Night Shelter Coordinator, has been working with homeless people for 21 years. WLM also runs its day shelter at Seymour Place, where 100 people come through the door each week for a hot breakfast, laundry, employment advice, or to visit the onsite health team. "I think one of the most important things is a welcome, so that someone can suddenly feel they can exhale," Mwaniki says.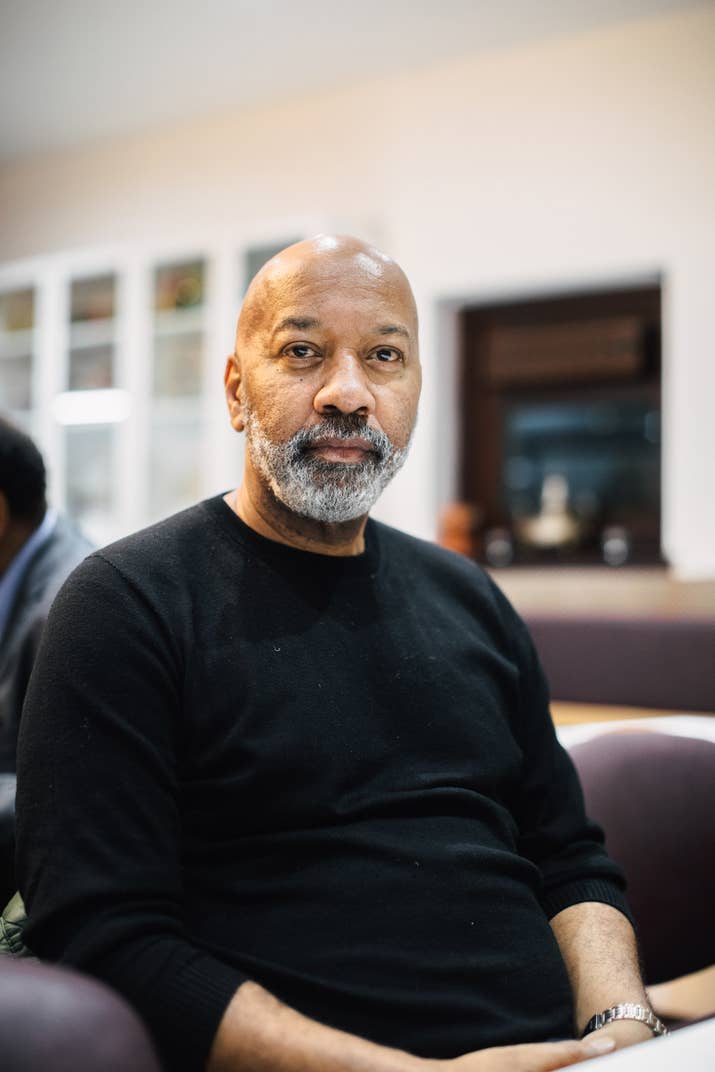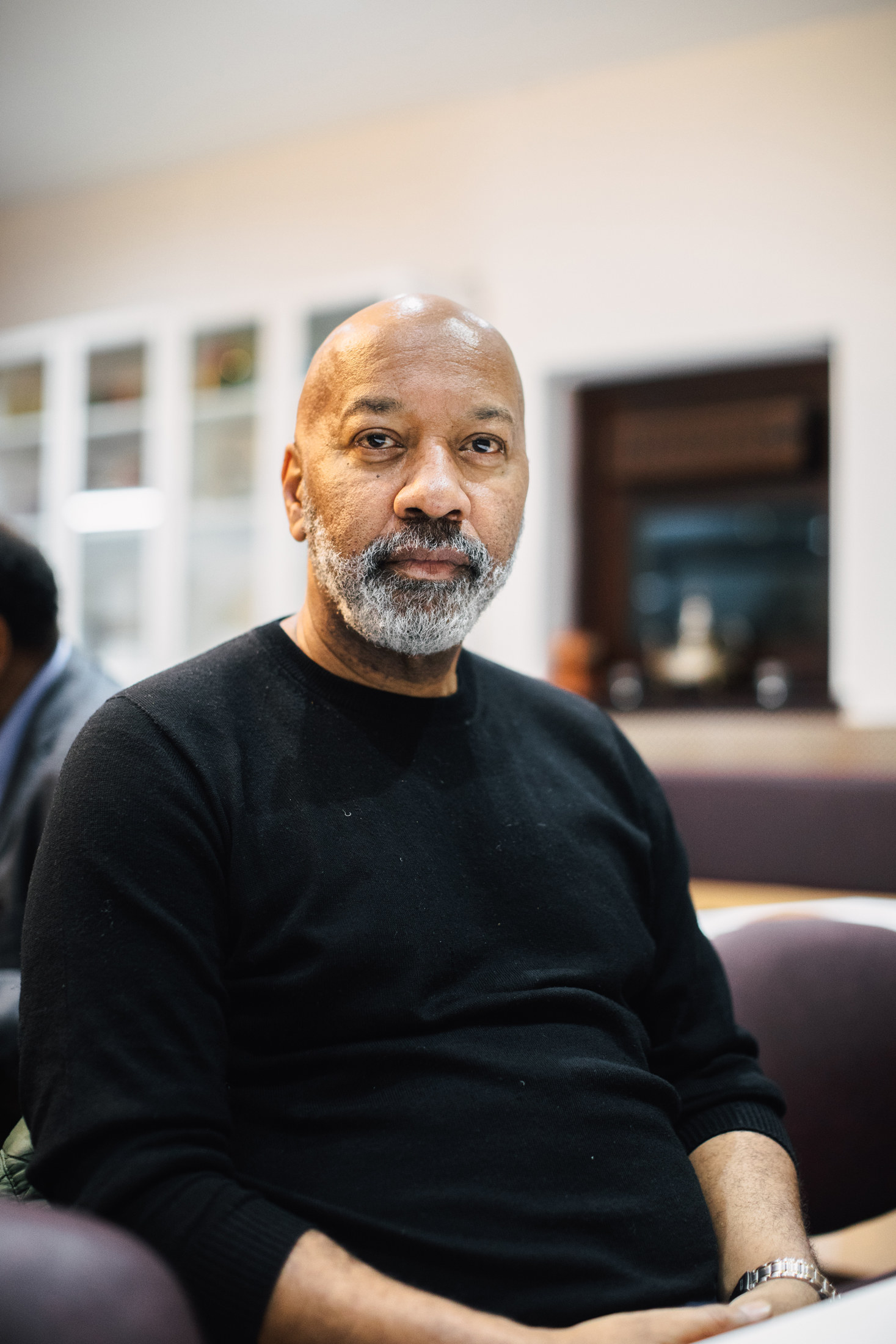 He says churches were also reluctant at first. "When we first started eight years ago there were only three churches that came on board and so the first group of homeless people were staying only three nights, and then the other four nights of the week they were on the streets.
"It took the following year for three more churches to come on, and then the day centre stepped in as the seventh venue.
"I think the churches were a bit apprehensive – This is our building. Who are these people? These strangers that are gonna come in – but as other churches began to do it, they learned from them and began to say 'We're gonna be part of this.'
"I think the al-Mannar mosque is setting the lead, and they can share with other mosques. They can talk to them and say 'We've done this.'"
---
As night falls at the shelter, and the lights switch off around 10pm, people start rolling out the sleeping bags and mats in the halls. But some make their temporary beds in the corridor outside, and read books, finding sleeping in a room with so many other people unbearable.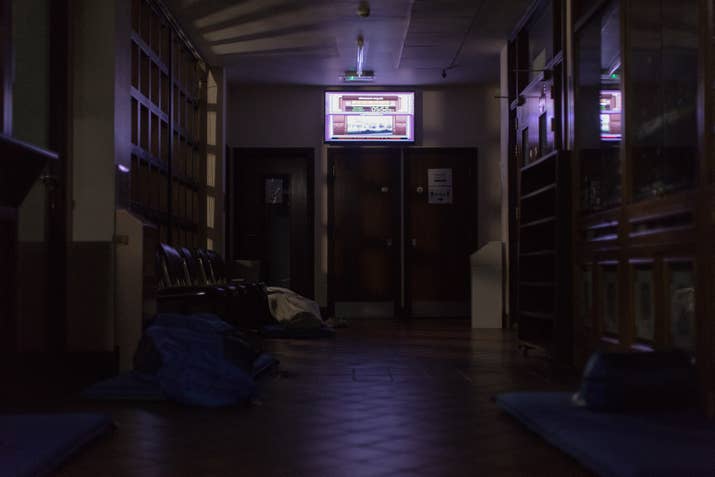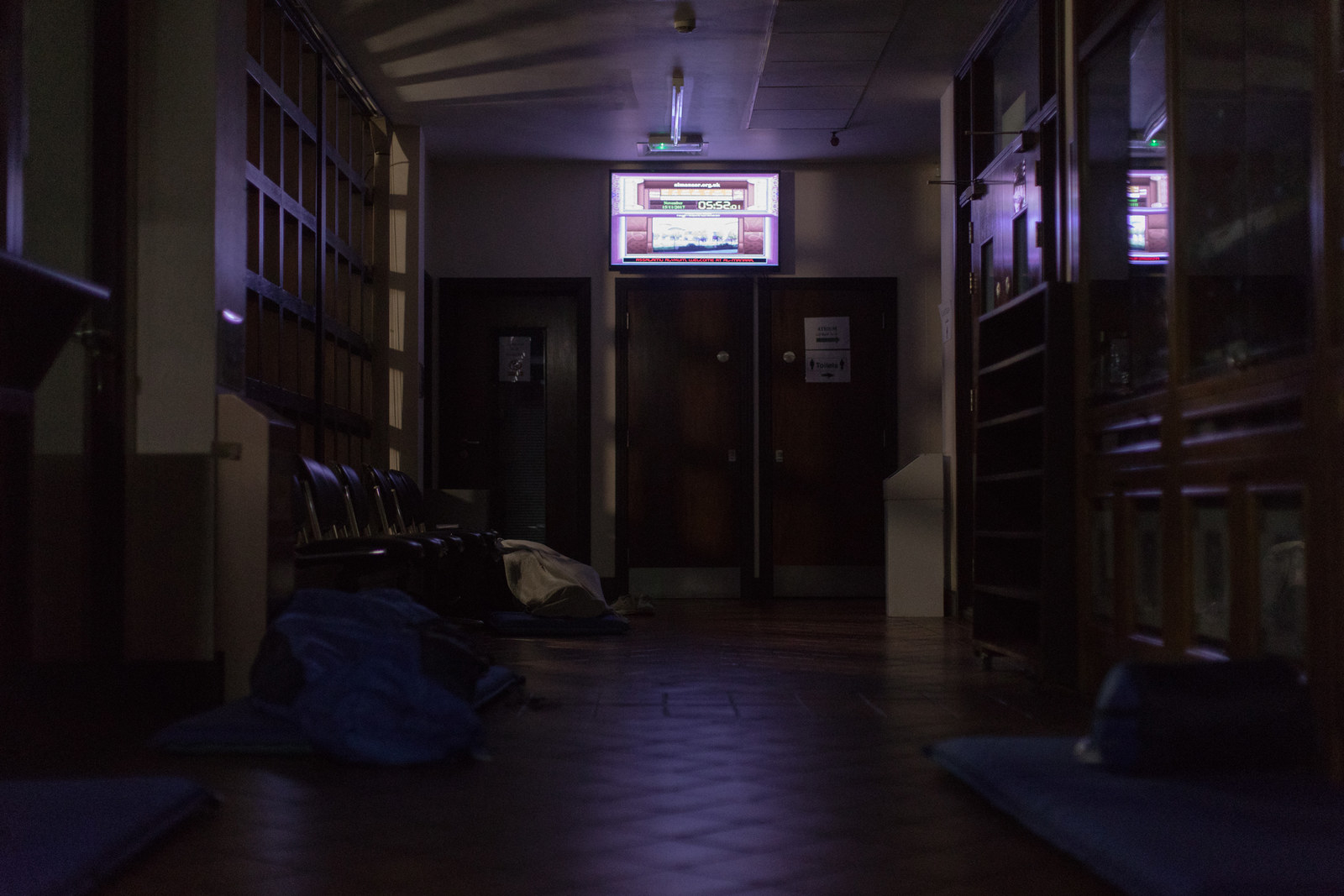 The next morning, the first guest up for breakfast after the mosque's pre-dawn call to prayer is Paul James Mcauley, 34.
He has to get up at 5:30am for work, and chats over breakfast, which includes leftover bread donated by Gail's Bakery and delivered by the Felix Project, which provides charities with food for vulnerable people. Cereal, porridge, coffee, and fruit are spread out on the main table.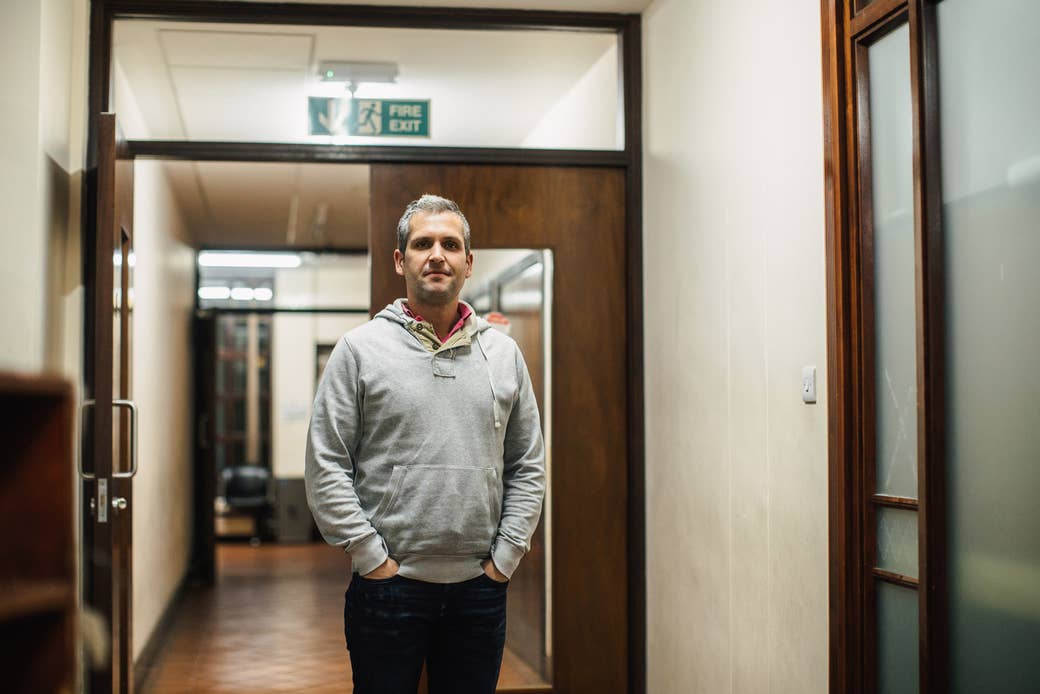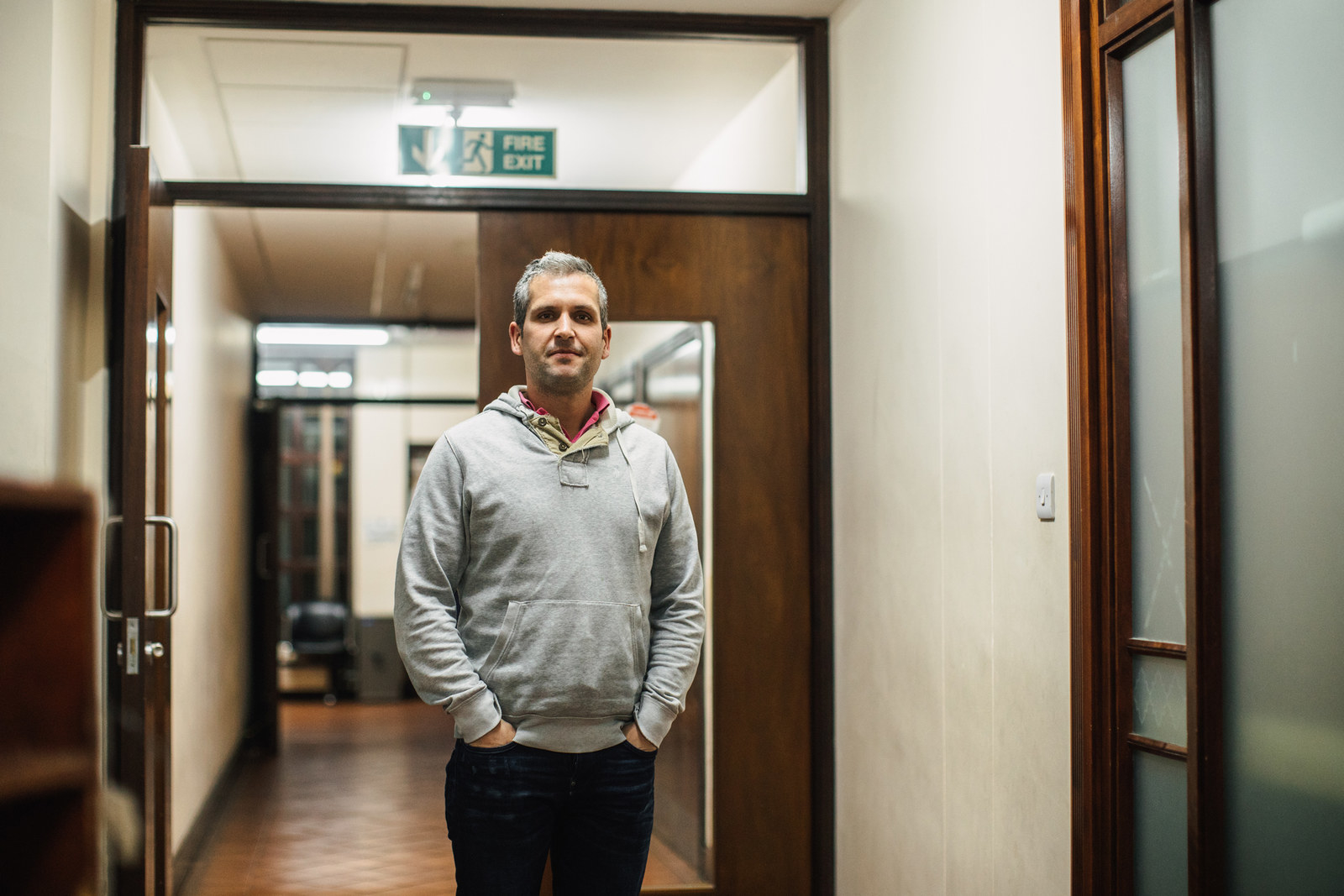 Mcauley is from Ireland and moved to London six weeks ago. He was in Cambridge for a couple of years working in construction, but had to leave when work dried up. When he first got to the capital, he stayed at a shelter in east London. One morning when he woke up, all his belongings he needed for work – his hard hat, boots, hi-vis jacket – were gone. He found the WLM day centre, which replaced his uniform.
He has a long bus journey ahead of him, and packs Tupperware with food for later.
Other guests get up early too, due to trouble sleeping but also to be able to get to the day centre first thing.
Mcauley says there's always something to worry about, but at least he's currently in work. "I'm managing it alright – it's not ideal. Sometimes people are coughing [at night] and you're not getting the best of sleep, but at the same time the end result is that I'll find accommodation, so I'm running along with it," he says.
"Everybody is nice. I can't blame people for snoring; if they snore I can't take it out on them."
Guests start filing in, have something to eat, and make their own way out in different directions.
For Naji Ali, who is originally from Sudan and came to the UK via France, being homeless has made him more resilient. "It makes me stronger. Honestly, I thought I was alone and was distressed, and I got the idea to go back to Liverpool. But when I remembered going back to Liverpool [would mean] I work all hours and getting nothing, I said to myself 'let me try here'."
But the WLM scheme has been a lifeline for Ali, and he's especially valued spending time with different religious groups – including making a Jewish friend for the first time. "From the mosque to the church to the synagogue… I don't want to exaggerate but through this charity and the day centre, this community can be healed because [it is really] diverse, and I've met different people.
"I felt I'm part of a family and not alone."